Buckland Monachorum Drama Group's Winter production is the pantomime "Robin Hood & The Black Knight" which has been especially written for them by Donna Baker.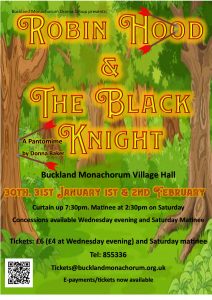 The story is about Robin Hood, who is living in the Greenwood with his merry men and his mum, Mother Hood! When he meets Maid Marion wandering in the forest, they instantly fall in love, but when he hears that her Uncle, the Sheriff of Nottingham, has betrothed her to the Black Knight, he promises to rescue her from the castle. If that wasn't enough, he also has to deal with a conniving Aunt, who wants her son to replace Robin as head of the Merry Men! Will Robin win the day and marry Maid Marion? Well, you'll just have to come along and find out!
Featuring a cast of adults and children, this is a show all the family can enjoy. Performance dates are from Wednesday the 30th January to Saturday 2nd February at 7.30pm, with a Matinee at 2.30pm on the Saturday. Tickets cost £6 with concessions available for the Wednesday evening and Saturday Matinee shows.
Payment can be made by BACS, Cash or cheque (made payable to Buckland Drama Group). Tickets will be sent via email or delivered by hand (or post). For ticket availability, please email your preferred date(s) to: tickets@bucklandmonachorum.org.uk
If you would like to put up a poster for us, then you can download it here: Robin Hood Poster
See you there!