Volunteers is a light comedy set in a Charity Shop. The action takes place over the course of several weeks. The Charity has appointed a new CEO, who has big ideas about how the shops should be staffed and run, which doesn't go down well with the current Manager and her Staff! But….all is not exactly how it seems!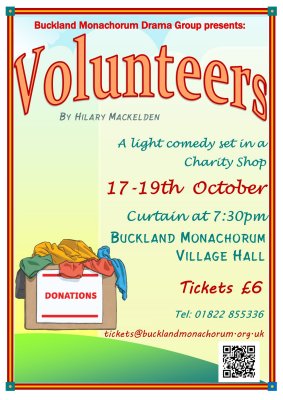 Cast
Brenda (Shop Manager): Bev Blake
Prue (one of the volunteers): Alex Chester
Denny (one of the volunteers): Shelia Phillips
Leanne (A young girl) : Jennifer Tabb
Claire (Area Manager) : Eila Grange
John (the new CEO) : Tim Alexander
Customers in the shop: Claire Allan, Bella Alexander, Janet Larkin, Keith Coventry
Volunteers is directed by Keith Coventry and produced by Stephen Fryer.
Tickets can be booked now by email: tickets@bucklandmonachorum.org.uk or by telephone: 01822 855336.
We now offer eticketing so your ticket can be sent to you directly.
Download a copy of the poster here
Volunteers is written by Hilary Mackelden, who has been writing plays since 1999, including full-length scipts and screen-plays. This is the first time Buckland Monachorum Drama Group has staged one of her plays.