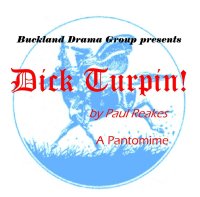 In this fun pantomime, the action takes place around Dame Dollop's Farm, and at nearby Lotaloot Hall. Dick Turpin, the notorious highwayman, is rumoured to be in the area and is a wanted man with a bounty on his head, (No not one of them chocolate bars – silly!). Dick robs Lord Lotaloot but is smitten by his Daughter, Caroline, and decides to seek a new and peaceful life. Having arived at Dame Dollop's Farm he thinks this is just the place to change his ways and settle down.
Unfortunately for him, the evil Mr X is intent on blackening his name still further with a dastardly plot to steal Lord Lotaloot's prize jewels!
With a case of mistaken identity, unrequited love, secret passages and mysterious goings on, it's bound to be an hilarious evening of laughter!
Tickets are available for booking NOW by emailing: tickets@bucklandmonachorum.org.uk
Dates are 4th to 7th February 2020. There are five performances in all, with four evening performances and one matinee performance. Tickets for the Wednesday evening and Saturday matinee performance are just £4. Tickets for all other evenings are £6.